Latinas Booked Out is a show dedicated to putting more cash in the hands of Women of Color. Host, Catalina Del Carmen, shares sales & marketing strategies that keep your business simple, mindset focused, bank account big, and the impact even bigger. So if you are on a mission to create generational change AND you want to make a lot of money doing it, welcome to the show! Cat Del Carmen is a Guatemalan-American wife, mom, and business coach that shares sales, marketing, and mindset coaching for online coaches, consultants, and service-based business. She teaches her clients how to secure their first four-figure client and then get fully booked without working around the clock. For more on Cat Del Carmen, follow her on instagram @CatDelCarmen and visiting https://www.catdelcarmen.com/
Episodes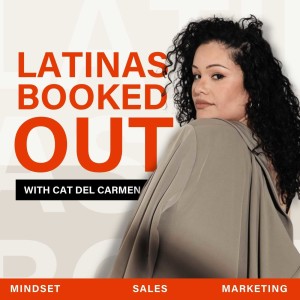 Tuesday Nov 01, 2022
Tuesday Nov 01, 2022
On today's episode I'm sharing how I planned for a big break from my business, in my case, maternity leave. Taking time away from your business can be a real mind f*** so I wanted to share my process on how I planned it and share why it's so important you prepare your mind more than anything. Listen in and take notes.
----
Show Up & Lead Mastermind opens for enrollment is open soon. If you want to learn how to sell out your offer and create your journey to six figures, I invite you to join. Sign up here for the waitlist.
Want more content? Watch my FREE training: How To Sell Out Your Offer in 4 Simple Steps.
---------
If you have not reviewed Latinas Booked Out, I would deeply appreciate a written review on Apple Podcasts!
---------
Latinas Booked Out is a show dedicated to putting more cash in the hands of Women of Color. Host, Catalina Del Carmen, shares sales & marketing strategies that keep your business simple, mindset-focused, bank account big, and the impact even bigger. So if you are on a mission to create generational change AND you want to make a lot of money doing it, welcome to the show!
Cat Del Carmen is a Guatemalan-American wife, mom, and business coach who shares sales, marketing, and mindset coaching for online coaches, consultants, and service-based businesses. She teaches her clients how to secure their first four-figure client and then get fully booked without working around the clock.
For more on Cat Del Carmen, follow her on Instagram @CatDelCarmen and visit catdelcarmen.com