Latinas Booked Out is a show dedicated to putting more cash in the hands of Women of Color. Host, Catalina Del Carmen, shares sales & marketing strategies that keep your business simple, mindset focused, bank account big, and the impact even bigger. So if you are on a mission to create generational change AND you want to make a lot of money doing it, welcome to the show! Cat Del Carmen is a Guatemalan-American wife, mom, and business coach that shares sales, marketing, and mindset coaching for online coaches, consultants, and service-based business. She teaches her clients how to secure their first four-figure client and then get fully booked without working around the clock. For more on Cat Del Carmen, follow her on instagram @CatDelCarmen and visiting https://www.catdelcarmen.com/
Episodes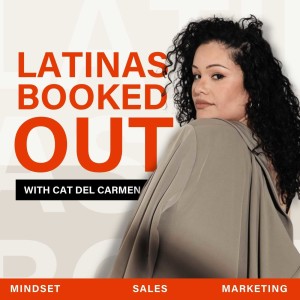 Tuesday Mar 14, 2023
Tuesday Mar 14, 2023
"Holding onto your money and not making an investment toward the betterment of your future, your children, and your community can also be seen as a form of greed." — Linda Garcia
This episode is full of gems like that from Linda Garcia, CEO of The Chosen Hundred LLC and Founder of In Luz We Trust. Linda is with us on the podcast today, and it is SUCH an incredible and impactful episode. We discussed her money story, all the way from her childhood and into how she got to where she is today.
Linda walked us through the challenges she faced as a teen mom, the difficulties and growth she experienced in her 20s, and how she was able to grow into the badass woman that we get to witness today. 
This episode with Linda is a game changer. How are we thinking about money in our everyday lives? What type of financial trauma are we navigating, perhaps without realizing? Bring out your notebook, because you'll want to take notes.
--------- 
Linda Garcia is the CEO of The Chosen Hundred LLC and Founder of In Luz We Trust. Follow Linda on IG: @inluzwetrust
A Cali native and proud Latina, Linda Garcia spent 17 years working in the TV and film industry helping well-recognized TV networks, movie studios and streaming services build programming for the U.S. Hispanic market. Despite enjoying the work, Linda knew there was more to life than working to make someone else rich. Eventually, she took the knowledge she'd gained and used it to launch the Let There Be Luz podcast: a weekly podcast aimed to channel one's spiritual journey, which Linda concluded at its 101st episode. 
In 2019, after relocating to Dallas, Linda's spiritual journey led her to what she considers her life's purpose: to help the Latinx community heal the generational money wounds that prevent them from achieving wealth. In 2020, at the height of the pandemic, Linda launched her first stock market course for beginners and created a rapidly growing community of Latinx investors on Patreon and Instagram known as In Luz We Trust. Today Linda is a published children's book author, a self-made business owner, and a guiding Luz for thousands of BIPOC who are looking to break free from limiting and toxic money mentalities. Linda's book, 'Wealth Warrior', is set to be released in April 2023.
--------
Wanna work with me 1:1? I have limited spots open this year to work with me 1:1. Fill out this interest form for details.
Applications for Show Up & Lead are closed. Next enrollment opens in June. Get on the waitlist here.
If you have not reviewed Latinas Booked Out, I would deeply appreciate a written review on Apple Podcasts!
---------
Latinas Booked Out is a show dedicated to putting more cash in the hands of Women of Color. Host, Catalina Del Carmen, shares sales & marketing strategies that keep your business simple, mindset-focused, bank account big, and the impact even bigger. So if you are on a mission to create generational change AND you want to make a lot of money doing it, welcome to the show!
Cat Del Carmen is a Guatemalan-American wife, mom, and business coach who shares sales, marketing, and mindset coaching for online coaches, consultants, and service-based businesses. She teaches her clients how to secure their first four-figure client and then get fully booked without working around the clock.
For more on Cat Del Carmen, follow her on Instagram @CatDelCarmen and visit catdelcarmen.com