Latinas Booked Out is a show dedicated to putting more cash in the hands of Women of Color. Host, Catalina Del Carmen, shares sales & marketing strategies that keep your business simple, mindset focused, bank account big, and the impact even bigger. So if you are on a mission to create generational change AND you want to make a lot of money doing it, welcome to the show! Cat Del Carmen is a Guatemalan-American wife, mom, and business coach that shares sales, marketing, and mindset coaching for online coaches, consultants, and service-based business. She teaches her clients how to secure their first four-figure client and then get fully booked without working around the clock. For more on Cat Del Carmen, follow her on instagram @CatDelCarmen and visiting https://www.catdelcarmen.com/
Episodes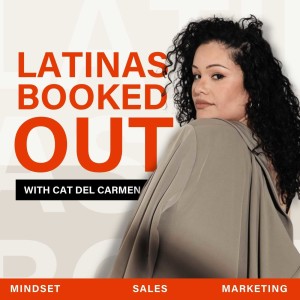 Tuesday Feb 14, 2023
Tuesday Feb 14, 2023
Today, I'm talking with Jannese Torres about how to build a million dollar brand. She has built an incredible brand through Yo Quiero Dinero and has made such an imprint on the online Latina community. She's an incredibly example of a brand that represents Latinas, entrepreneurship — all while remain authentic. 
How does she conserve her energy? How has her brand brought in over a million dollars? These are the questions we answer on today's episode of Latinas Booked Out. 
Tickets are now available for Jannese's Our Money, Our Power Financial Freedom Summit.
Early bird tickets are on sale right now at this link: https://courses.yoquierodineropodcast.com/our-money-our-power
The Financial Freedom Summit is designed to write a new cultural narrative. One that goes beyond consumerism and capitalism and focuses on the POWER you have to build generational legacy and wealth.
Beyond inspiration and education, you'll walk away with a blueprint for the true vision and value for your life.
--------
About Jannese: YQD™ Founder Jannese Torres is a nationally-acclaimed, award-winning Latina Money Expert, Educator, Speaker, Writer and Business Coach.
She became an accidental entrepreneur after a job loss led her to create a successful Latin food blog, Delish D'Lites. Now, she helps her clients and listeners build successful online businesses that allow them to pursue financial independence and freedom.
Jannese is on a mission to educate marginalized communities on topics like entrepreneurship, investing, and building generational wealth through her personal finance podcast, "Yo Quiero Dinero."
The podcast has been featured on BuzzFeed, Telemundo, Business Insider, Yahoo Finance, NextAdvisor (Time), Grow Magazine (CNBC), & more.
Her forthcoming book, Financially Lit, will be published by Grand Central Publishing in early 2024.
IG: https://instagram.com/yoquierodineropodcast?utm_medium=copy_link
Pinterest: pinterest.com/dineropodcast
YouTube: youtube.com/c/YoQuieroDineroPodcast
Twitter: https://twitter.com/dineropodcast
TikTok: https://vm.tiktok.com/TTPdB1ydrw/
LinkedIn: https://www.linkedin.com/company/yo-quiero-dinero/
--------
Applications for Show Up & Lead are closed. Next enrollment opens in July. Get on the waitlist here.
If you have not reviewed Latinas Booked Out, I would deeply appreciate a written review on Apple Podcasts!
---------
Latinas Booked Out is a show dedicated to putting more cash in the hands of Women of Color. Host, Catalina Del Carmen, shares sales & marketing strategies that keep your business simple, mindset-focused, bank account big, and the impact even bigger. So if you are on a mission to create generational change AND you want to make a lot of money doing it, welcome to the show!
Cat Del Carmen is a Guatemalan-American wife, mom, and business coach who shares sales, marketing, and mindset coaching for online coaches, consultants, and service-based businesses. She teaches her clients how to secure their first four-figure client and then get fully booked without working around the clock.
For more on Cat Del Carmen, follow her on Instagram @CatDelCarmen and visit catdelcarmen.com