Latinas Booked Out is a show dedicated to putting more cash in the hands of Women of Color. Host, Catalina Del Carmen, shares sales & marketing strategies that keep your business simple, mindset focused, bank account big, and the impact even bigger. So if you are on a mission to create generational change AND you want to make a lot of money doing it, welcome to the show! Cat Del Carmen is a Guatemalan-American wife, mom, and business coach that shares sales, marketing, and mindset coaching for online coaches, consultants, and service-based business. She teaches her clients how to secure their first four-figure client and then get fully booked without working around the clock. For more on Cat Del Carmen, follow her on instagram @CatDelCarmen and visiting https://www.catdelcarmen.com/
Episodes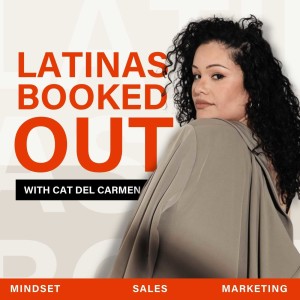 Tuesday Oct 04, 2022
Tuesday Oct 04, 2022
On today's episode, I am breaking down why radically simplifying your business actually creates more profit, more demand, and more growth. For years, I spent my time doing all the things, creating picture perfect courses, showing up on all the socials, for what felt like almost non return on my investment. What's going to get you to the next level is not doing more --- it's actually doing less. Listen in to learn more!
----
Show Up & Lead Mastermind opens for enrollment in November. If you want to learn how to sell out your offer and create your journey to six figures, I invite you to join. Sign up here for the waitlist.
Want more content? Watch my FREE training: How To Sell Out Your Offer in 4 Simple Steps.
---------
If you have not reviewed Latinas Booked Out, I would deeply appreciate a written review on Apple Podcasts!
---------
Latinas Booked Out is a show dedicated to putting more cash in the hands of Women of Color. Host, Catalina Del Carmen, shares sales & marketing strategies that keep your business simple, mindset-focused, bank account big, and the impact even bigger. So if you are on a mission to create generational change AND you want to make a lot of money doing it, welcome to the show!
Cat Del Carmen is a Guatemalan-American wife, mom, and business coach who shares sales, marketing, and mindset coaching for online coaches, consultants, and service-based businesses. She teaches her clients how to secure their first four-figure client and then get fully booked without working around the clock.
For more on Cat Del Carmen, follow her on Instagram @CatDelCarmen and visit catdelcarmen.com