Latinas Booked Out is a show dedicated to putting more cash in the hands of Women of Color. Host, Catalina Del Carmen, shares sales & marketing strategies that keep your business simple, mindset focused, bank account big, and the impact even bigger. So if you are on a mission to create generational change AND you want to make a lot of money doing it, welcome to the show! Cat Del Carmen is a Guatemalan-American wife, mom, and business coach that shares sales, marketing, and mindset coaching for online coaches, consultants, and service-based business. She teaches her clients how to secure their first four-figure client and then get fully booked without working around the clock. For more on Cat Del Carmen, follow her on instagram @CatDelCarmen and visiting https://www.catdelcarmen.com/
Episodes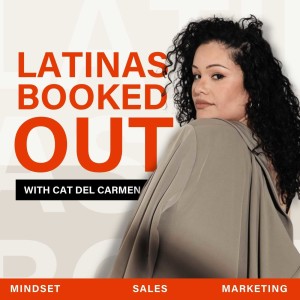 Wednesday Jun 02, 2021
Wednesday Jun 02, 2021
On today's episode, I'm talking with one of my clients Charlie Stover. Charlie is a non-binary Money Coach who helps LBGTQ & BIPOC folks make money their bitch! During our conversation we talk about going from a hundred dollar offer to a four-figure offer, how to build belief in yourself and how to manage your mind.
Charlie is an example of creating demand while getting their MBA. I think what Charlie is best at is being unapologetic themselves and collaborating effortlessly. You do not want to miss out on this episode. If you know it's time to get serious about your money and understand where it's going, make sure to follow Charlie on instagram!
Charlie's Instagram:  https://www.instagram.com/travelercharly/
----
Follow that Fear Instagram: https://www.instagram.com/followthatfear/
Cat Del Carmen Instagram: https://www.instagram.com/catdelcarmen/
Flodesk DISCOUNT CODE: https://flodesk.com/c/CATDELCARMEN
Follow that Fear Podcast is a show dedicated to helping women and BIPOC build wildly profitable businesses while showing up real! We'll cover business, marketing, family, mindset and everything in between! If you know you want to build the business of your dreams on your own terms, make sure to subscribe!